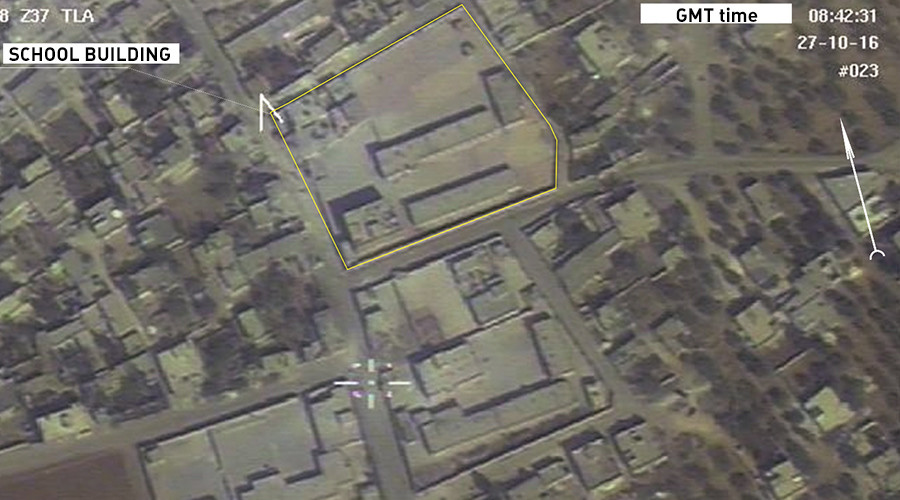 The Russian Defense Ministry says that it dispatched a drone to analyze the site of Wednesday's alleged bombing of a school in Idlib, Syria. The ministry says that the aircraft spotted no evidence of airstrikes, and accused the White Helmets of faking digital images of the attack.
"On Thursday, a Russian UAV was directed to the area, to conduct detailed digital photography," said a statement from Defense Ministry spokesman Major General Igor Konashenkov. "As can be seen from the photos taken by the drone, there are no signs of damage to the roof of the school, or craters from airstrikes around it."
"We have analyzed the photo and video 'evidence' of the supposed attack. The video published in a range of Western media outlets appears to consist of more than 10 different shots, filmed at different times of the day, and in different resolutions that were edited into a single clip," continued Konashenkov.

"The photograph published by AFP shows that only one wall of the school is damaged, and all the desks inside the classroom are in place. The outer fence seen through the hole has no traces of damage from bomb fragments. In a genuine airstrike this is physically impossible – the furniture would have been swept away by the blast wave, and there would have been damage marks on the classroom wall and the outer fence."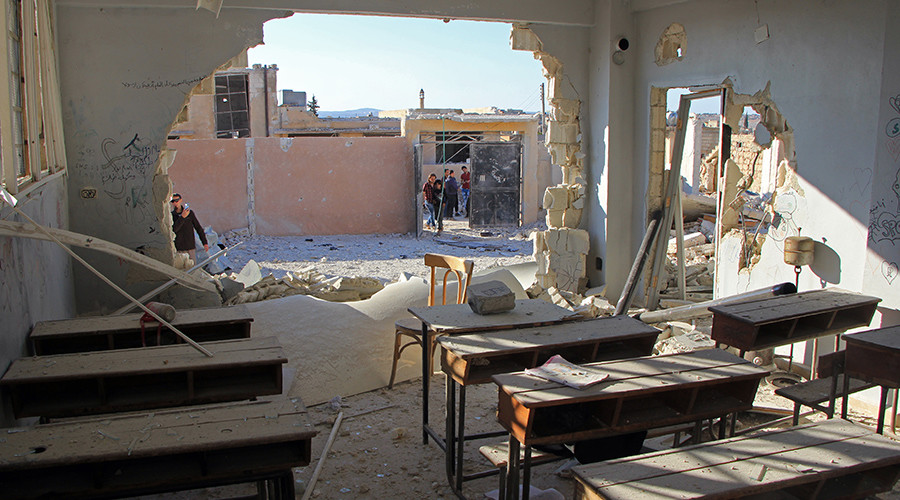 The Moscow official said that the findings of the Russian drone could be verified by the American side, as during its photo mission, a US MQ-1B Predator UAV was in the same area.
Konashenkov also added that it is an "indisputable fact" that no Russian Air Force plane was present in the airspace in the vicinity of the school on the morning of the supposed attack.
The attack was first reported by the controversial two-man, London-based Syrian Observatory for Human Rights and the Civil Defense Network, also known as the White Helmets, which claimed that 22 children and six teachers died in an aerial assault on Wednesday morning.
Later the same day, Anthony Lake, executive director of UNICEF, called the incident a "tragedy" and an "outrage," and said that "if deliberate" it amounted to a "war crime."
"Our evidence points to UNICEF falling victim to another scam from the White Helmet fraudsters. Before making resonant statements, UNICEF should check its sources more carefully, to protect the reputation of the respected organization," continued Konashenkov.
The White Helmets is a Western-funded volunteer civil defense body that operates in Syria. Its official mission is to offer first aid to victims of bombings, but Syrian and Russian authorities have accused the White Helmets of spreading anti-government propaganda, and of close ties with Islamist rebels.